Dusan Licina was appointed as Tenure Track Assistant Professor of Indoor Environmental Quality at the School for Architecture, Civil, and Environmental Engineering (ENAC) at EPFL. He leads the new Smart Living Lab's research group Human-Oriented Built Environment Lab (HOBEL) in Fribourg since 1 June 2018.
You just arrived at the Smart Living Lab, which includes EPFL, HEIA-FR and UNIFR. What are your first impressions about this interdisciplinary research center?
I've been following development of the Smart Living Lab since its very inception. While the institution is still relatively young and many researcher (including me) are considered newcomers, I think that a substantial amount of work has been done so far. Nevertheless, I feel that we have just scratched the surface, and that many new projects and partnerships are ahead of us. Future looks bright!
Can you tell us more about your career in academia?
Throughout my academic career, I've specialized in air quality engineering, focusing on sources and transport of air pollutants in buildings, human exposure assessment, and optimization of building ventilation systems with an aim to improve air quality. I moved around quite a bit. I completed my joint Doctorate degree at the National University of Singapore and Technical University of Denmark. Before that, I completed my MSc and BSc degrees in mechanical engineering (University of Belgrade). Last couple of years I spent at both West and East coast of the USA – first I was a postdoc at the University of California Berkeley, after which I moved to New York where I worked on the development of the first rating system that focuses exclusively on the impacts of buildings on human health and wellness. It's time to settle down!
What are you most excited about your appointment as Head of the new Human-Oriented Built Environment Lab?
I'm excited about building relationships and collaborations with my new colleagues, as well as building a whole new team of enthusiastic & bright students and postdocs that will (hopefully) become the future leaders in the field. I am also thrilled about ongoing Smart Living Lab's building project that, once completed, will be one of the most technologically advanced and environmentally friendly buildings worldwide.
What will your research focus on over the coming year?
My professional obsession is to develop a strong research program that will advance knowledge of the intersections between people and the built environment. Broadly speaking, the key mission of my lab is to ensure that high indoor environmental quality for building occupants in achieved in an energy efficient manner. In the coming years, HOBEL will strive to improve our knowledge in domains of indoor air quality, assessment of human exposure to airborne pollutants, dynamics and fate of pollutants in buildings, advanced ventilation systems and controls, development of tools and methods for enhanced building environmental monitoring, thermal comfort of humans and their behaviour.
What inspires you about the built environment of the future and its research schemes?
Despite great advancements in building sustainability, I think that on a global scale there is still a considerable gap between where we are now and where we want to be. We must not forget about developing economies where we can create the biggest influence on people's lives through our research, innovation and implementation. Raising awareness about the air quality issues worldwide is important and I hope that Smart Living Lab will contribute to this effort. Buildings of the future must not only be energy efficient, but they should also contribute to "Michelin Star" air quality.
Whenever you are not doing research, what are you interested in?
Spending time with family and friends is very important to me. I'm passionate for discovering new places and getting to know people, their cultures and traditions from all over the world. I enjoy working out, swimming and hiking in the nature, but my favourite sport/hobby is playing pool. When I was a kid, I always dreamt of having a house with specially dedicated room with a pool table (yes, I am still the very same kid). I also play the accordion, piano and classical guitar, even though I cannot say that I am particularly good at them. Definitely need to dedicate more time to studying French!
Information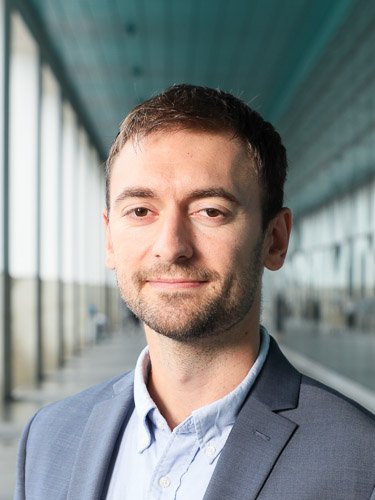 Dusan Licina
Head of Human-Oriented Built Environment Lab (HOBEL)
Tenure Track Assistant Professor- EPFL
-human-building interaction
-heating, ventilation and air-conditioning HVAC
-health and comfort in buildings

ASHRAE honors Dusan Licina
Dusan Licina, Head of the Human-Oriented Built Environment Lab (HOBEL) at Smart Living Lab, has just received the Ralph G. Nevins Physiology & Human Environment Award at the ASHRAE Annual Conference on 23-27.06.2018 in Houston. The award is given to an investigator for significant accomplishments in the study of man's response to the environment and its effect on human comfort, health, and well-being. Through research, standards writing, publishing, certification and continuing education, ASHRAE and its 57'000 members worldwide strive to advance human well-being through sustainable technology for the built environment.