New chapter in the five-year history of the Smart Living Lab
In 2019, the Smart Living Lab began a new chapter in its five-year history with a new type of Parallel Studies Mandate (MEP) - open and collaborative - for the design of its future building, thus transforming the results of four years of research into a tangible project. This was an opportunity for the selected architectural and engineering firms to work closely with the research teams. The winning project has put a face to the building that will house the Smart Living Lab researchers from 2023. The annual report 2019 highlights this challenge.
The Smart Living Lab now enjoys a national reputation that increases the number of opportunities for international visibility. The ARC-HEST's Swiss-Korean academic programme is a good example of this. Launched in partnership with three South Korean universities, this is an interdisciplinary Summer School devoted to the study of comfort in co-working spaces in Seoul, South Korea and a corresponding Winter School in Fribourg, Switzerland. Another example includes the initiative to organise sustainable construction workshops in Colombia, as part of the cooperation activities carried out by the State Secretariat for Economic Affairs. These workshops have enabled research findings produced in Fribourg to be transferred and adapted to a different context, where the potential impact is enormous. For each of these projects, the collaborative work between the three partners EPFL, HEIA-FR and UNIFR was a key success factor.
"The Smart Living Lab now enjoys a national reputation that increases the number of opportunities for international visibility"
On the bluefactory site where the Smart Living Lab is located, the NeighborHub solar house continues to draw many visitors. It still serves as a multi-functional neighbourhood home designed to showcase sustainability. While public events are held there, the house generates research data on the production and consumption of energy and water. The first two books of a new series entitled "Towards 2050" were published by the European publishing house Park Books in May 2019. These books are intended to disseminate preliminary research findings from the Building2050 programme to a larger readership. The programme exists for the purpose of designing the future Smart Living Lab building. These two books offer recommendations to guide practitioners in the development of comfortable buildings with a low carbon footprint.
2019 was a busy and very satisfying year for the new director, who would like to warmly thank all the members and partners of the Smart Living Lab for their contribution to the success of this ambitious and unique research centre. We look forward to the new fundamental and applied research projects that will result from the Smart Living Lab's participation in national networks as well as to the innovations that will emerge from these networks through current and future partnerships.
Information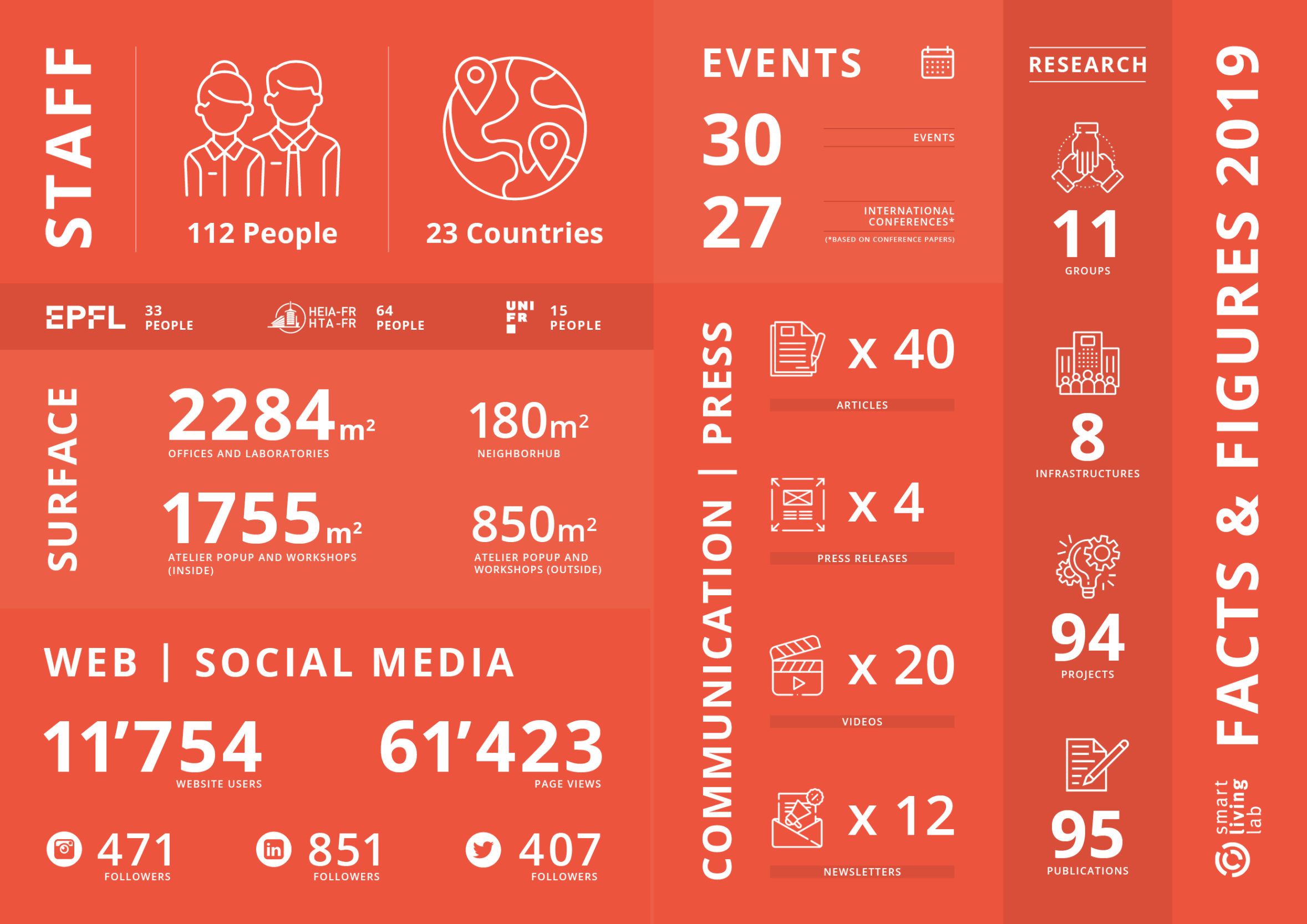 TAGs